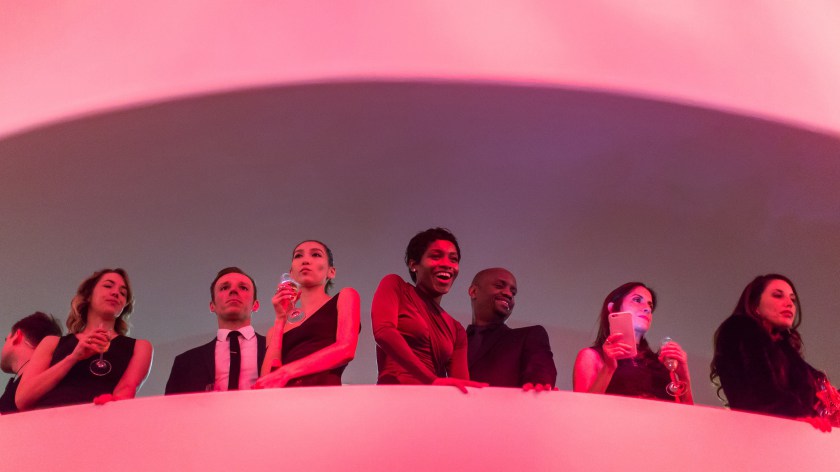 Guggenheim Museum and Dior Announce Dates for
Guggenheim International Gala
Benefit Events to be Celebrated at the Museum on November 15 and 16
NEW YORK, NY —The 2017 Guggenheim International Gala (GIG) will take place on November 15 and 16, 2017, and for the fifth consecutive year will be made possible by Dior. The celebration will begin on Wednesday, November 15, with a Pre-party at the museum featuring a special musical performance. A benefit dinner will be held on the following evening, Thursday, November 16.
Proceeds from the GIG contribute to the Guggenheim Museum's general operating fund, which advances a range of internationally acclaimed exhibitions and educational programs, supports stewardship of the Guggenheim's unparalleled collections of modern and contemporary works of art, and provides for the care of the museum's landmark Frank Lloyd Wright–designed building.
Tickets to the GIG Pre-Party will go on sale in September, and include the performance, a full open bar, and an opportunity to view a selection of Art and China after 1989: Theater of the World, a fresh interpretative survey of Chinese experimental art spanning from 1989 to 2008. Tickets are $225 for Young Collectors Council members and $250 general admission. A one-year membership to the YCC may be combined with an individual ticket to the Pre-Party for the discounted price of $750. The event has a limited capacity.
For further information on tickets to the GIG dinner on November 16, contact specialevents@guggenheim.org.
About the Solomon R. Guggenheim Foundation
Founded in 1937, the Solomon R. Guggenheim Foundation is dedicated to promoting the understanding and appreciation of art, primarily of the modern and contemporary periods, through exhibitions, education programs, research initiatives, and publications. The Guggenheim network that began in the 1970s when the Solomon R. Guggenheim Museum, New York, was joined by the Peggy Guggenheim Collection, Venice, has since expanded to include the Guggenheim Museum
Bilbao (opened in 1997) and the Guggenheim Abu Dhabi (currently in development). The Guggenheim Foundation continues to forge international collaborations that take contemporary art, architecture, and design beyond the walls of the museum, including with the Guggenheim UBS MAP